Info on events, activities, workshops and exhibitions in North Carrick!
MAYBOLE SCOUTS NEED YOU!
Our group is in desperate need for new Cub and Scout Leaders.
For the past 8 years Len and Jackie have tried (and failed
) to retire. This has been due to the lack of new Leaders.
Over these years we've had people start their training, however for various reasons it has always fell through…..
However, Len and Jackie have finally made the decision to officially retire next week, Monday the 12th of September. This leaves me as the only Leader in the group, and it is simply too much for me to organise and run all three Sections by myself.
This means that if we don't get any new Leaders the Cub and Scout Sections will have to unfortunately close.
All the Cub and Scout parents/guardians will be kept up to date with the forthcoming changes.
Please note that is will be NO CHANGES to the Beaver Section. I will continue to run the Beavers along with my helper.
LEADER CRITERIA
All the necessary training is provided with no cost to yourself.
You'll receive all the help and guidance that is needed to become a Leader.You don't have to have a Scouting background.
If anyone would be interested in becoming a Leader or knows of anyone please contact me.
Carrick Cinema Club – Upcoming Season
Season September 2022-May 2023
Friday 21st Oct Downton Abbey-A New Era – From award-winning creator Julian Fellowes comes the motion picture event DOWNTON ABBEY: A NEW ERA. The much-anticipated cinematic return of the global phenomenon reunites the beloved cast as they go on a grand journey to the South of France to uncover the mystery of the Dowager Countess' newly inherited villa and a Hollywood picture is also being shot on location at Downton. Cert PG
Fri 18th Nov Top Gun Maverick – If you loved the original — or enjoy some good old-school action — you need to speed your way to a screening of Top Gun: Maverick . After more than thirty years of service as one of the Navy's top aviators, Pete "Maverick" Mitchell (Tom Cruise) is where he belongs, pushing the envelope as a courageous test pilot and dodging the advancement in rank that would ground him. When he finds himself training a detachment of Top Gun graduates for a specialized mission the likes of which no living pilot has ever seen, Maverick encounters Lt. Bradley Bradshaw (Miles Teller), call sign: "Rooster," the son of Maverick's late friend and Radar Intercept Officer Lt. Nick Bradshaw, aka "Goose". Cert 12A
Fri 16th Dec The Railway Children Return Inspired by one of the most beloved British family films of all time, RAILWAY CHILDREN is an enchanting, moving, and heart-warming adventure for a new generation. 1944 — As life in Britain's cities becomes increasingly perilous, three evacuee children — Lily (Beau Gadsdon), Pattie (Eden Hamilton) and Ted (Zac Cudby) Watts — are sent by their mother from Salford to the Yorkshire village of Oakworth. There to meet them on the train station platform are Bobbie Waterbury (Jenny Agutter, reprising her iconic role in the original film), her daughter, Annie , and grandson Thomas. Cert PG
All films start at 7:30pm in the Carrick Centre, Maybole. Tickets £5. Ices on sale before the shows.
Maybole Footgolf Club!
Recently founded this year, Maybole Footgolf club play at Maybole Golf Course and the club is growing from strength to strength!
Footgolf is a rapidly growing sport and is open to everyone of all ages. If you are interested in either sponsoring or getting involved in the playing side our our community club, then please email Daryl Grover on [email protected] 

Maybole Library Autumn Update
1 High Street, Maybole KA19 7AB Tel: 01655 883 044
For more information about any of our library services please visit our website –
www.south-ayrshire.gov.uk/libraries

Library Opening Hours:
Mondays            1pm – 7pm
Tuesdays             9am – 1pm and 2pm – 5pm
Wednesdays      9am – 12noon
Thursdays           9am – 1pm and 2pm – 5pm
Fridays                 10am – 1pm and 2pm – 5pm
DVDs – Borrow the latest blockbusters for a week free of charge!
Adults can borrow 2 DVDs per week; young adults may borrow 1 DVD per week. You can also place a hold for a DVD held at another branch and we'll deliver it to Maybole Library for you to collect.
PC Access
Maybole Library has PCs for public access. To ensure your slot, you can contact the library directly by phone, or book a PC online. http://netloan.south-ayrshire.gov.uk/netloan
Please note, to use our PCs you will need a valid South Ayrshire Library card number and PIN. If you live, work or study in South Ayrshire and you don't yet have a library card you can join online or by contacting the library direct.
Instant Access to eBooks, audiobooks, newspapers, and magazines
Always available – online access to the latest eBooks, audiobooks, newspapers, and magazines. Check out up to six eBooks or audiobooks and enjoy unlimited access to your favourite newspapers and magazines – completely free! To find out more visit south-ayrshire.gov.uk/libraries and follow the link for 'eBooks, magazines and newspapers.'
Children's Monthly Craft Sessions
Join us each month for different themed monthly craft on the following Mondays.
12th September 3.30pm – 4.30pm
10th October 3.30pm – 4.30pm
14th November 3.30pm – 4.30pm
Suitable for primary school aged children – must be accompanied by an adult.
Free event but booking is required. To book Tel: 01655 883 044
LEGO and Duplo Club
Every Thursday, 3.30pm to 4.30pm
Have fun creating and building with LEGO. Duplo blocks are also available for younger children.
Children – must be accompanied by an adult. Free, drop-in event.
Maybole Library Events and Activities

Carrick History Society
Every Monday, 4pm – 7pm
Join us each week for information and discussion sessions in Maybole Library.
Sensory Impairment Drop-in Sessions
Second Monday of the month – 2pm to 3pm – Specialist support and advice for hearing loss issues.
Sensory Impairment Support Group – S.I.S.G 
Hearing Aid Battery Pick Up Point – during library opening hours.
South Ayrshire Lifeline
First Thursday of every month from 2pm to 3.30pm.
Peeps Classes 
Thursday mornings 10am to 11am. Booking is essential. An opportunity for parents to meet and join in with stories, songs, and rhymes to stimulate their babies and toddlers. There will also be crafts and cooking sessions held.
NCCBC Funding Deadlines
Please note that the deadline for the current round of NCCBC funding is in awarded at the start of November, and the deadline for applications is the second week of October. If you have an idea, get in touch with us and we can help you through the application process!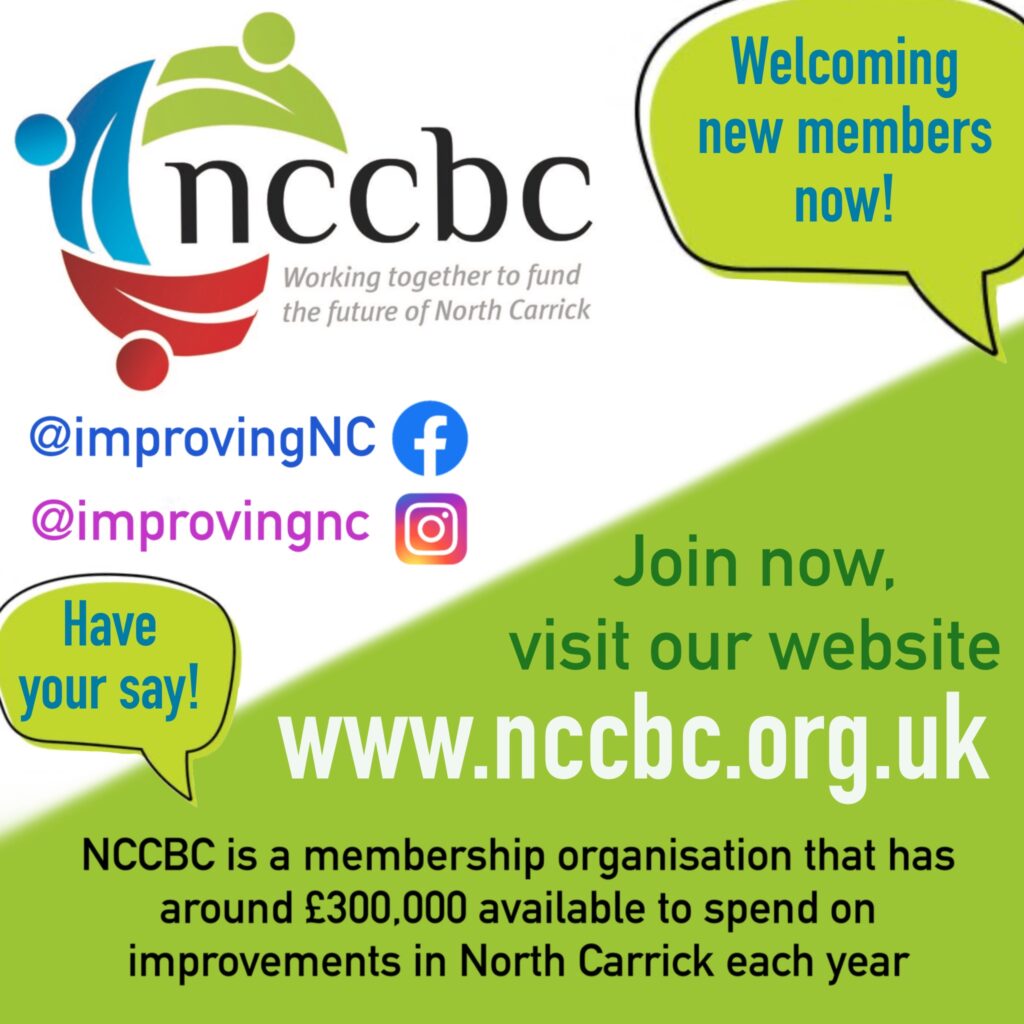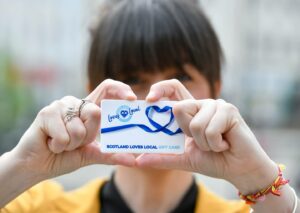 Introducing the Scotland Loves Local Gift Card scheme!
The Scotland Loves Local Gift Card is a gift to the entire community – treating someone to the fantastic products, services and experiences on offer in their area, and at the same time protecting local jobs and ensuring the community prospers. Find out More Here!